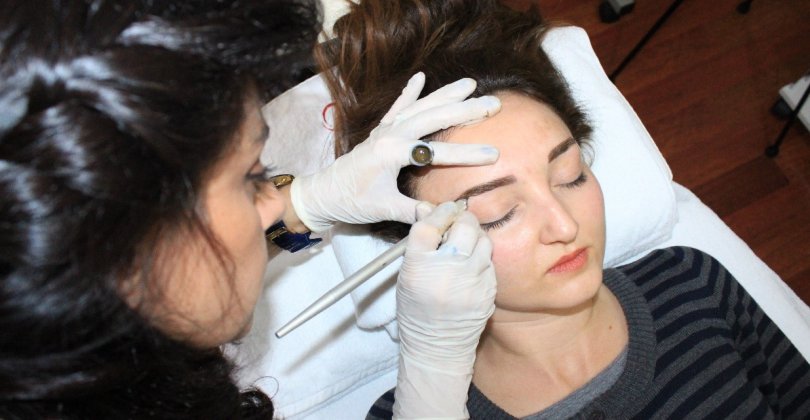 What is Microblading?
It is time to write about the most anticipated subjects. What is Microblading? Microblading is applied to epidermis...Okay don't get angry. I know that most of you have no idea about the technical terms. For that reason, I will explain in the simplest way possible. Actually, microblading is the name of an eyebrow application.
This is applied to the upper layer of the skin and is manually done with a pen. Since it is applied to upper layer of the skin and not a deep application, Microblading will last for a year. This period could be longer or shorter depending on the type of the skin. If you have oily skin, the dye will fade easily, but you can use your eyebrows for 9-10 months.
You will see the Microblading pen that I use below. When you are having this application, you should be careful about materials like needle and dye mould to be single use. Don't get excited about the operation and disregard this important topic. You should watch what the expert is doing. This operation should be done in a hygienic environment. Expert should use gloves for her own safety. Everything is good up to this point. Now we should explain how Microblading is done.
Microblading Procedure
Before microblading, it is important to shape the eyebrow and make it look good on your face. The eyebrow should fit your face. Later, the expert selects the appropriate dye for you skin colour. Microblade is a technical application and this technique involves drawing hair strands inside your original eyebrow to obtain a natural look. If I need to talk about my applications, our customers are happy about the natural dye and natural looking eyebrows. Therefore, they can continue their daily life easily and can go for their dinner reservation after the application. However, I am also facing these situations. When I make an eyebrow to someone with little or no eyebrow, there are feeling different, but it looks natural to us. The person may need to adjust to new eyebrows for the first day.
Why Do the Eyebrow Colours Change in Microblading or Permanent Make-Up?
I would like to explain why do the eyebrow colours change in permanent make-up. I know that you are seeing reddish green eyebrows and I know that it drives you crazy as it drives me crazy. But this isn't the case. The colours don't have to be like this. The main reason for this is the economic aspects. The application is made with tattoo ink because these inks are cheaper, and the eyebrows change colour. Additionally, poor quality dye selection and inexperience of the practitioner could cause such problems. Selecting red-based colours or cold colours could result in unnatural eyebrow colours. But as you don't know this reality, you are thinking of these colours when we say eyebrow applications. I am telling everyone that comes to my centre the truth and I hope most of your will have the correct information about this process with this article.
I am obsessed with colour in permanent make-up. Therefore, I am attending to international fairs and make contracts with expert firms to bring the highest quality dyes to Turkey. I want to make a good application. And everything is about that right. Ok. We should earn money, but we should give successful results to make our customers happy. I am really glad to see happy customer and I want to work harder.
Me and My Microblading Pen
What Should You be Careful About After Microblading?
No matter which eyebrow application you select, you need to follow certain rules after the procedure. You need to stay away from water for one day. I heard that some centres are saying "stay away from water for one week" and I am really shocked. You are kidding me, right? One week is unhealthy. The eyebrow is forming crust and you are taking care of your brow by applying creme for 3-4 times per day. This way you are keeping your eyebrow moisturised. I want you to use the creme for one week and I am recommending applying Vaseline before shower to prevent drying. This care is important, because the longer it takes for the crusts to fall, the more permanent the procedure be. I also want to explain the crust thing. It isn't a serious crusting. You can feel it when you touch it but it is invisible from outside. Some of our patients are even saying that they didn't experience any crusting. There is of course some crusting, but they cannot feel it and the crusts fall when they are sleeping at night. The application doesn't end here. We are expecting you one month later for a free retouch. We are making one last application. From this point, you can enjoy your new eyebrows.